I've been meditating for about a year
I'd toyed with the idea of meditating for several years, and read a few good books on Buddhism and meditation, mostly by Thich Nhat Hanh. I highly recommend my favorite book on being happy: Teachings On Love:
http://www.amazon.com/Teachings-Love-Thich-Nhat-Hanh/dp/1888375124
If I'm ever feeling angry, this book always soothes me and makes me feel better.
However, the way Hanh recommended meditation never worked for me. It was frustrating and too difficult. I never really got into At the same time I had a growing feeling that meditation is something I should be doing. It's been proven to have several health benefits.
http://en.wikipedia.org/wiki/Meditation#Health_applications_and_clinical_studies
One book made it happen for me. I heard of it by asking my facebook friends for a recommendation. A perceptual psychology professor at Georgia Tech recommended
Meditation
by Eknath Easwaran. I read it, and loved it. I recommend it highly.
http://www.amazon.com/Meditation-Simple-Program-Translating-Spiritual/dp/B000NX1YA4/ref=sr_1_7?ie=UTF8&s=books&qid=1261747424&sr=1-7
It did two things for me. First, it convinced me that I should be meditating in the first place, and why. Sometimes I get judgmental and angry, and I can't do much about it. I sometimes find myself thinking of things that have made me angry. Sometimes these events happened as long as 20 years ago. I can get myself worked up into a real fury for no good reason at all. Lately I've had a bit of anxiety, too. Not as much as most people, I don't think, but enough to be a problem. I meditate to get control of my own mind. I'm an athiest, so I don't buy into many of the mystical beliefs surrounding meditation (more on that in another blog entry). I just want to be able to stop myself from being miserable, anxious, or angry, whenever I want.
Second, it showed me a way to meditate that I could actually stand doing. Hanh recommends mindfulness meditation, which I could not get to work. Easwaran recommends mantra meditation, which I like better. Below I will describe exactly how I meditate, but first I will report on the results.
In short, not much, yet.
I think I got a lot out of the
Meditation
book. It is full of good ideas I was a happier person, better able to deal with the crap life throws at you, right after reading it. It's worth reading even if you don't start meditating.
However, in terms of the benefits of meditation, I have not seen them yet. I just talked to someone who has been meditating for 30 years, and he said he did not start to see results for two years. It's really a huge commitment, and not easy.
As I hinted at above, there are several kinds of meditation, and the one that works for me is mantra meditation. I have a string of words that I repeat over and over in my head (not aloud). I read a book by the Dalai Lama and in it was something like "As long as there is suffering, I am here to serve." I started meditating with this mantram (which I believe is singular for mantra). I would sit with my eyes closed for a half an hour, right after my shower in the morning, and say that to myself over and over.
Since then the mantram has evolved to its present form. I didn't like the fact that it was all about helping others and not necessarily being happy about it. So I changed it to "As long as there is suffering, I am here to joyfully serve." I liked this better, but I wanted more of a focus on happiness, so I added to the end of it "As long as there is happiness I am here to rejoice." To add a calming effect, I added to the end of that "Calmly, Peacefully, Rama." "Rama" basically means rejoice. It's there because it's supposed to be a word that has worked for many people for a long time. I was already breaking the rules by making up my own mantram, so I thought I'd throw the philosophy another bone and use "rama" in there.
The trick is to try to think about the mantram and only the mantram for half an hour. This is incredibly difficult, because your mind wanders. If you can control your mind, it won't wander. This is what controlling your mind means. I think of meditation as a workout, training my mental muscles to concentrate on what I want to think about, and not be subject to whatever my subconscious throws at me.
To make it easier, I focus on a different part (usually a word) each time I go through it. So, the whole mantram is "As long as there is suffering, I am here to joyfully serve. As long as there is happiness I am here to rejoice. Calmly, peacefully, rama."
The first half is darker, focusing on the world's problems. The first part I focus on is "as long." I picture the entire Earth, rotting and black, filled with all the terrible hurt and pain that there is. Just to be clear, for each word I go through the whole mantram in my head, focusing on the word or phrase, and its accompanying image, during that go-through.
Next is "suffering." I think of someone or something in pain. A crippled dog, a lonely old person, a woman in Africa being threatened by children with guns, a man who had a stroke, someone in the hospital in chronic pain, etc.
Next is "I." I picture myself as a heroic figure, standing in the darkness, ready to help all of those in need. It's kind of inspiring.
Next is "here." I focus on the word "here" as a nod to mindfulness meditation, another kind of meditation in which you focus on your sensory surroundings and what goes through your mind. I think about where I am, how my body feels, and imagine a connection between me and anybody else in the room. Since I meditate before my wife wakes, usually this is just my dog. To distinguish it from the "here" in the second part of the mantram, I imagine the connection between us made of a spider web, slightly illuminated by moonlight.
Next is "joyfully." It's important not only to help people, but to be happy doing it. I smile while I focus on this word, and imagine a crescent moon above me, to distinguish it from "rejoice" in the second part. Just making yourself smile has been proven to make you feel happier.
Next is "serve." On this I open my eyes to remind me that I'm dealing with the real world.I often look out the window at the sunlight playing on the building across the street.
Next is the happy half of the mantram. I focus on "As long" again, but this time around imagine the whole earth, glowing with love and happiness, representing the good feelings everybody has.
Next is "happiness." I picture someone or something very happy. Usually I picture my pug, Mrs. Wiggles, when I'm rubbing her belly, which is an easy-to-retrieve image of pure joy. Other times I picture my wife laughing.
Next is "I." I picture myself again, as a heroic figure, but this time I picture myself in a sunny environment.
Next is "here." I be mindful of my environment again, and imagine a glowing connection to whomever is in the room. Again, usually it's Mrs. Wiggles.
Next is "rejoice." I smile and try to appreciate all the good in the world.
Next is "calmly." Thinking of being calm really does calm me. To keep track of where I am, I focus on the letter C.
Next is "peacefully." Same thing, focusing on P.
Next is "rama." This time I really focus on the meaning of the sentences.
I call that a cycle. I say the mantram 14 times, each time focusing on a different part. Three of these makes a "supercycle." I keep track of the cycles with my hands. For the first cycle, I have my hands resting on my legs. For the second cycle, I hold my hands together. For the third, I cradle my right hand in my left, with my fingers touching. This is a common meditation hand pose.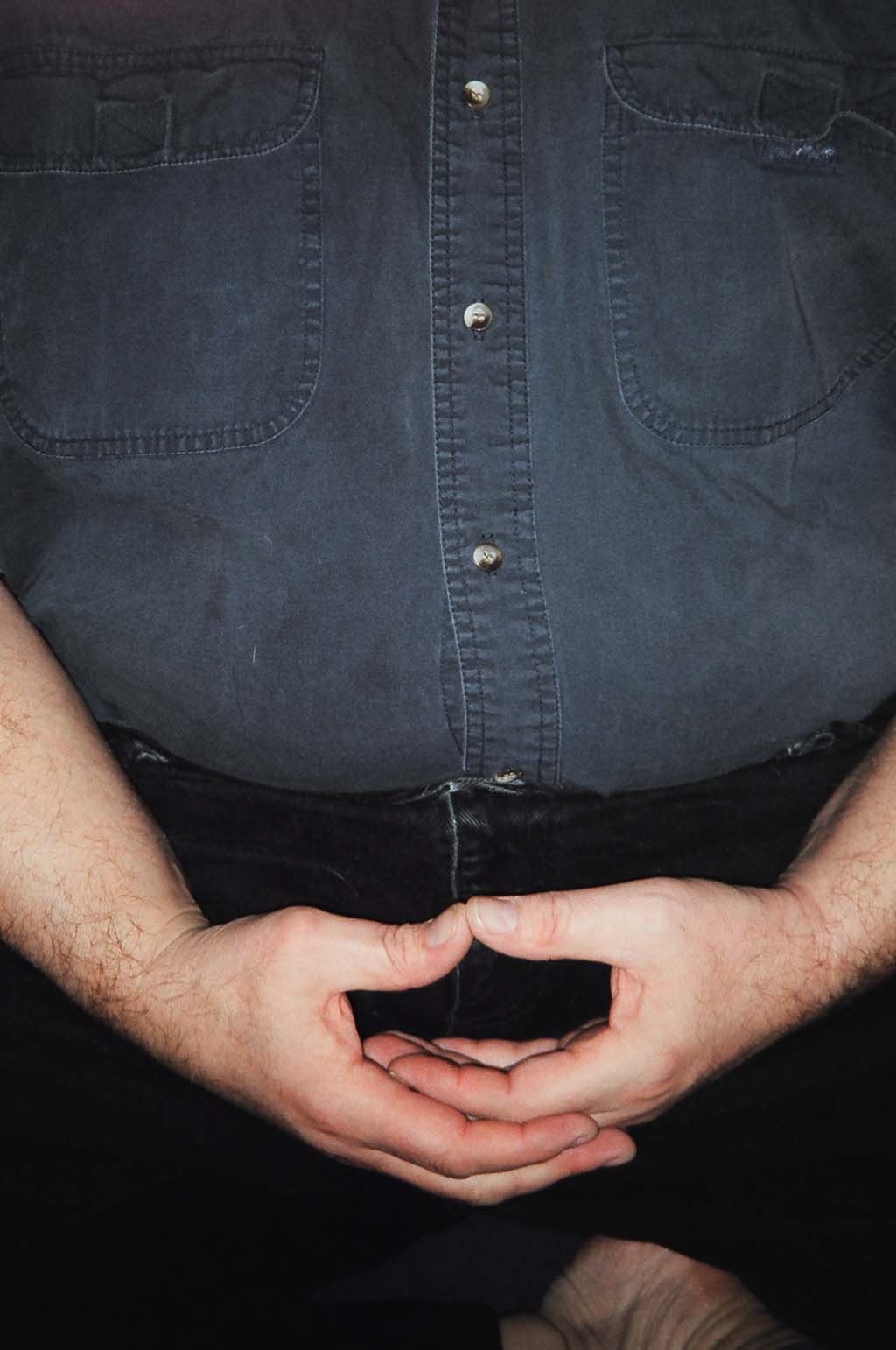 I know this sounds complicated, but I need all of these clues to keep track of where I am.
After one supercycle I take a break. My half hour meditation session involves three supercycles and two breaks.
The first break involves thinking about the people in my family and two of my close friends. I imagine my mother, father, wife, self, and my sister's whole family, one by one, and feel love for each of them. When I think of myself, I think of myself as someone in need of love, as opposed to the strong, heroic image I use during the cycles.
The second break is a focus on my body and health.
So each supercycle involves 14 x 3 repetitions of the mantram, which is 42. I have three supercycles, so during a half hour I repeat the mantram 126 times. With the two breaks, it takes one half an hour.
I am committing myself to do it for another year. If I don't see progress by then, I will reconsider.